One fact that is not known to a lot of people who invest is this: becoming a private investor is one way of reaping the benefits from real estate business. The fact that the housing market is increasingly getting stronger, which enables real estate investors to have significant profit, makes it a wise decision to become a private lender.

The extreme swing of regulations on loan origination from way too lenient to now over stringent is also another reason for private investors to venture in such investments. Now that these reasons have caught your attention, you might be interested in private money investing.
To help you prepare, here are the things you need to know about becoming a private investor.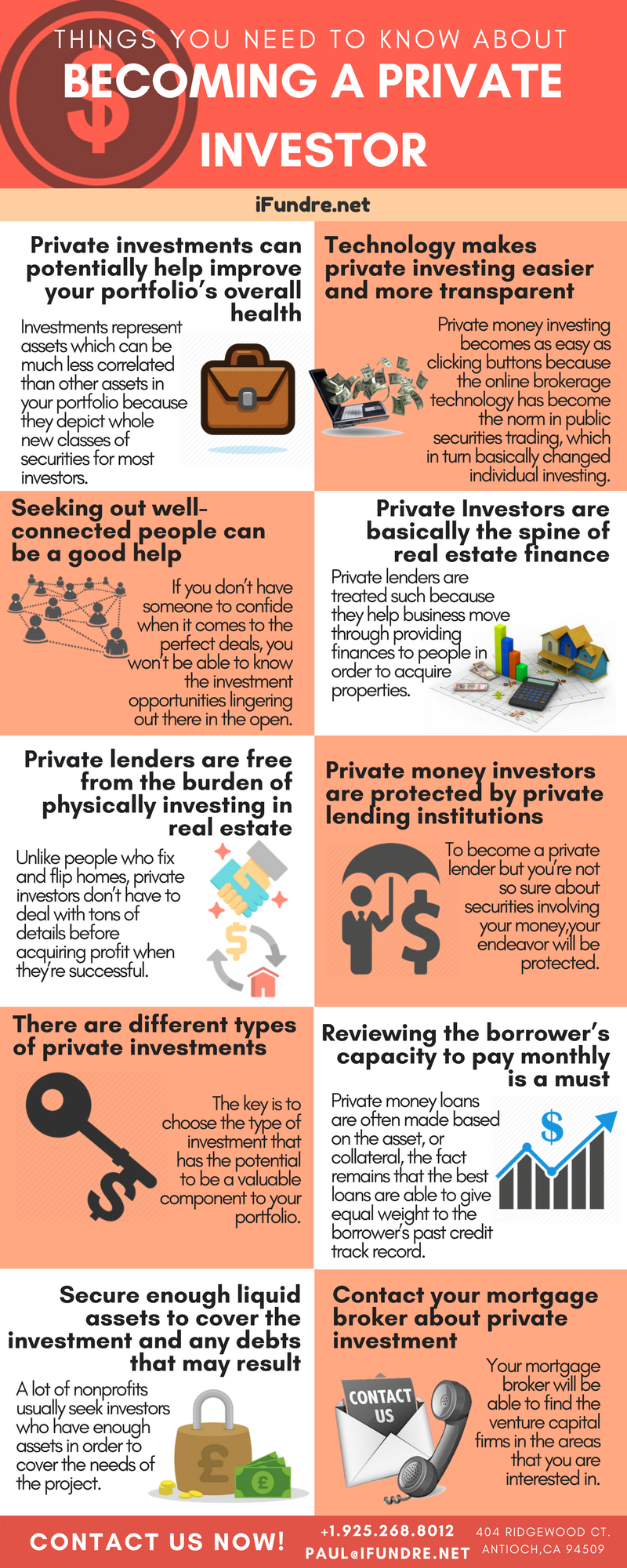 1. Private investments can potentially help improve your portfolio's overall health.
Such investments represent assets which can be much less correlated than other assets in your portfolio because they depict whole new classes of securities for most investors. This means that their value may not move in the same direction, time, and amount as your portfolio. Due to that particular reason, when you include private investments as part of a well-diversified mix of holdings, it's actually possible that the overall volatility of your portfolio will decrease while its expected return will increase.
2. Technology makes private investing easier and more transparent.
Due to the advent of technology, almost everything is possible. Even private money investing becomes as easy as clicking buttons because the online brokerage technology has become the norm in public securities trading, which in turn basically changed individual investing. Engaging in online brokerages lets you have an easy access and transparency to the deals and documents compared to the traditional system.
3. Seeking out well-connected people can be a good help.
It's not necessary that you are linked to tons of people; what matters is that you need to know the inside track to the right deal, and you only need to connect to a few people; just be sure that those few are great in what they do. If you don't have someone to confide when it comes to the perfect deals, you won't be able to know the investment opportunities lingering out there in the open.
4. Private Investors are basically the spine of real estate finance.
Private lenders are treated such because they help business move through providing finances to people in order to acquire properties. When you become a private investor, it's safe to say that a lot of people are actually counting on your money. You're actually hitting two birds with one stone; you're reaping benefits from your real estate investment while helping other people.
5. Private lenders are free from the burden of physically investing in real estate.
Unlike people who fix and flip homes, private investors don't have to deal with tons of details before acquiring profit when they're successful. They only have to lend their money through private lending companies, like iFundre.net, while they receive their big rate of return with lower risk.
6. Private money investors are protected by private lending institutions.
If you want to become a private lender but you're not so sure about securities involving your money, you need to know that as you become a private lender, your endeavor will be protected. Private lending companies like iFundre.net partners with institutions that protects your investments in case some issues will arise with the borrowers or their property.
7. There are different types of private investments.
This goes to show that not all private investments are the same. There are some equity, debt, and other types of securities. They can be in startup companies with a great potential for growth in the years ahead of them. They are also in companies looking for capital in order to expand their business. The key is to choose the type of investment that has the potential to be a valuable component to your portfolio.
8. Reviewing the borrower's capacity to pay monthly is a must.
As you become a private investor, remember that it's very important to know if the borrower is able to make monthly payments. Otherwise, it wouldn't be good for you or your investment. Although private money loans are often made based on the asset, or collateral, the fact remains that the best loans are able to give equal weight to the borrower's past credit track record.
9. Secure enough liquid assets to cover the investment and any debts that may result.
It's very crucial to calculate your net wealth. A lot of nonprofits usually seek investors who have enough assets in order to cover the needs of the project. This will serve as your cash cushion just in case something goes wrong. In that way, you will be prepared to face the worst thing that will happen.
10. Contact your mortgage broker about private investment.
When you invest privately, there are mutual funds that are created out of venture capital securities, which is basically a more disconnected way of becoming a private lender. These investments, nonetheless, have lower risk compared to direct investments. Your mortgage broker will be able to find the venture capital firms in the areas that you are interested in.
Becoming a private investor may not seem so familiar to you before reading this article. But now, after knowing some things about becoming one, you might be interested in that business. You can engage in this financial journey, but always remember to always have a backup plan and money. Remember to take risks and see how far your money would take you.

You can share your journey or some points that other people should know when they become, or decide to become a private lender in the comment section below. Feel free to add up any experiences and tips that you can give to those who are just beginning to test the water. You can also share what you have learned as a private money lender.